Teron Metal Components News & Events
Explore the latest blog and news on metal components, electrical components, earthing components, fasteners, custom manufacturing solutions, industrial solutions, latest industrial trends, and more!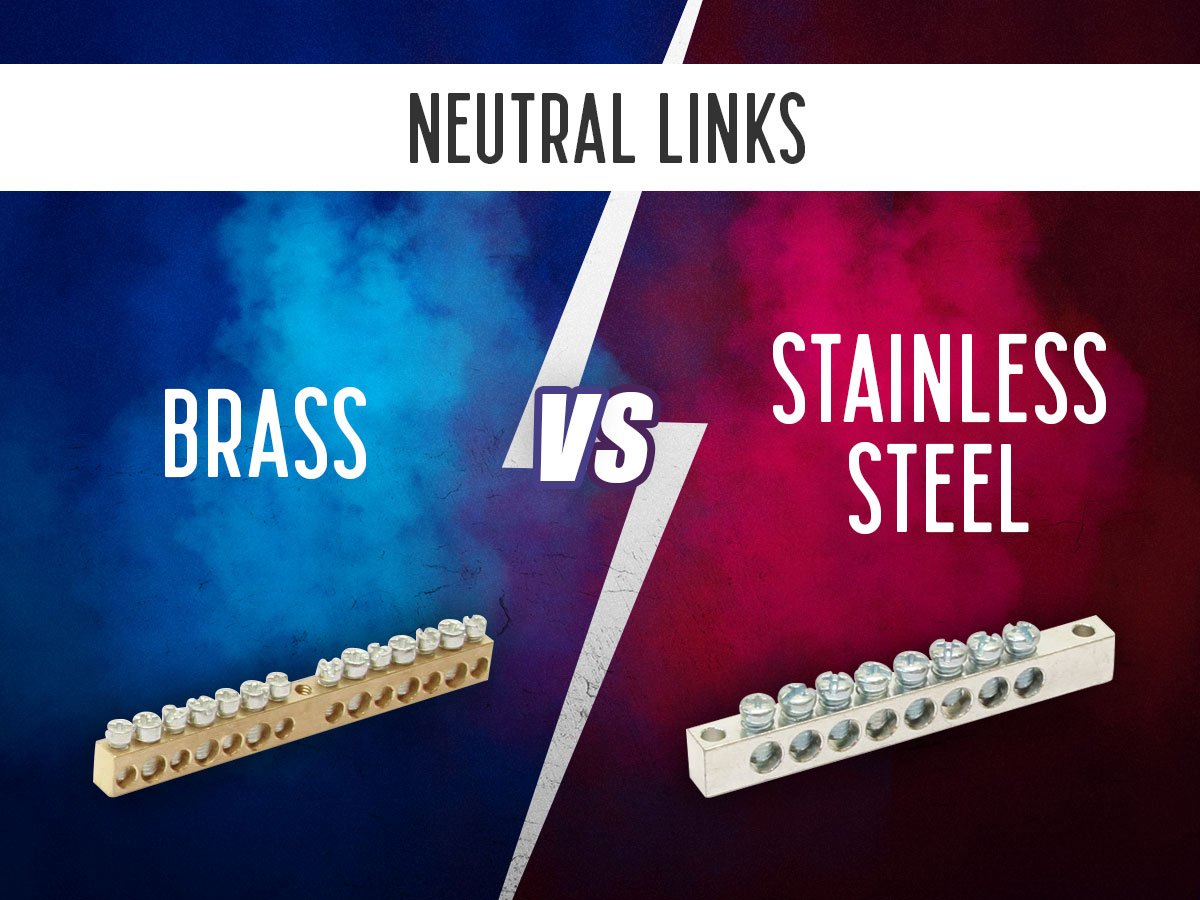 Are you looking for neutral links? There are many types of neutral links that are used in a variety of industrial applications. For optimal performance, you must use suitable type of neutral links. A wrong choice may either alter the functionality of your application or even create any risk eventually. The neutral link selection process will be more challenging when it comes to the material, style, and price! It is not just about how aesthetically pleasing the neutral link is, but also about its quality and durability. An industrial application of any size or type requires quality neutral links. Brass and stainless steel are the two main types of materials used for electrical components. Both options are highly beneficial and ensure great functionality, but what is the difference between them when it comes to neutral links?
Let's begin by understanding what a brass neutral link and a stainless steel neutral link are.
Brass Neutral Links:
Brass neutral links are manufactured from a combination of alloys made primarily of copper and zinc. Depending on how much of each metal is present in the mixture, brass neutral links will have different colors and qualities. Solid brass neutral links are highly durable and reliable due to their ideal balance of robustness and flexibility. Copper is used in brass neutral links, so they have excellent thermal conductivity. When it comes to electrical and thermal conductivity, brass neutral links outmatches stainless steel neutral links by fifteen times. Brass neutral links are the most used type of brass electrical components for conveying hot or cold water within industrial or residential systems and for petroleum products. This is because of their high anti-corrosive properties. Brass neutral links' tensile strength exceeds carbon steel.
Advantages of Brass Neutral Links
Brass neutral links are strong, even surpassing low carbon steel tensile strength.
Neutral links made from brass are suitable for cold as well as hot water installations, including potable water transport systems.
It is common to be exposed to moderate and alkaline solutions, while strong solutions such as cyanides and hydroxides are avoided.
Stainless steel Neutral Links:
Stainless steel neutral links are manufactured from an alloy combination of iron, carbon, and chromium that provides a smooth, and easy-to-clean surface. Stainless steel is extremely sanitary and suitable for hospitals, pharmaceutical industries, food factories, construction, and related industrial applications. Stainless steel neutral links have excellent mechanical strength. Due to its heat-resistance, corrosion-resistance, tarnish-resistance, and rust-resistance properties, it requires less maintenance and lasts longer. Stainless steel neutral links made from super austenitic stainless steel (UNS S31254 or N08367), super duplex stainless steel (S32760 or S32750), and low-carbon grade stainless steel 316L are used in the marine, desert, and in locations with high rainfalls.
Advantages of Stainless steel neutral links
Acid and petroleum compounds are not a problem for stainless steel neutral links.
They are resistant to nitric acid and ether citric solutions, but not to hydrochloric acids.
Their exact comparisons are determined by the metal and grades.
They offer services at a greater temperature.
Comparision between Brass Neutral Links and Stainless steel Neutral Links:
| | |
| --- | --- |
| Brass Neutral Links | Stainless steel Neutral Links |
| Brass neutral link can withstand corrosion better. | Stainless steel is the best in the corrosion resistance. |
| Much better for welding compared to stainless steel neutral link. | Stainless steel neutral links must be frequently broken down if they are to be used for welding. |
| Ideal for high conductive electrical applications. | The best options for high pressure and temperature situations. |
| Easy to manufacture due to soft and easy too cast material. | Comparatively difficult to cast and machine due to its material hardness. |
| Based on different brass grades it can be silver, grey, brown, gold, or orange. | There are shades of Gray or silver in it. |
| Brass neutral link is less durable against flowing water, because it is softer. | In rushing water, stainless steel neutral link will endure longer. |
| The cost of brass neutral link is depending on the brass grade or alloy you select. But generally low in cost. | The cost of manufacturing stainless steel is expensive. |
|  It contains small amounts of lead | It does not contain lead. Its 100% lead-free. |
In conclusion, both brass neutral links and stainless steel neutral links have many benefits. In terms of general utility, brass neutral links are mostly considered and most suitable for general applications. There are many advantages and differences between brass and stainless steel neutral links, so it's important to understand their properties, advantages, and differences before making a decision. The detailed information will help you determine which is more valuable for their specific applications.
If you looking to buy standard or custom neutral links, Teron Metal Components is a high-quality neutral link manufacturer and exporter you can trust. No matter whether your requirement is low, medium, or high-volume, or if you are looking for contract or OEM manufacturing of neutral links, request a free quote or contact us via e-mail at sales@teronmetalcomponents.com. We are happy to hear from you!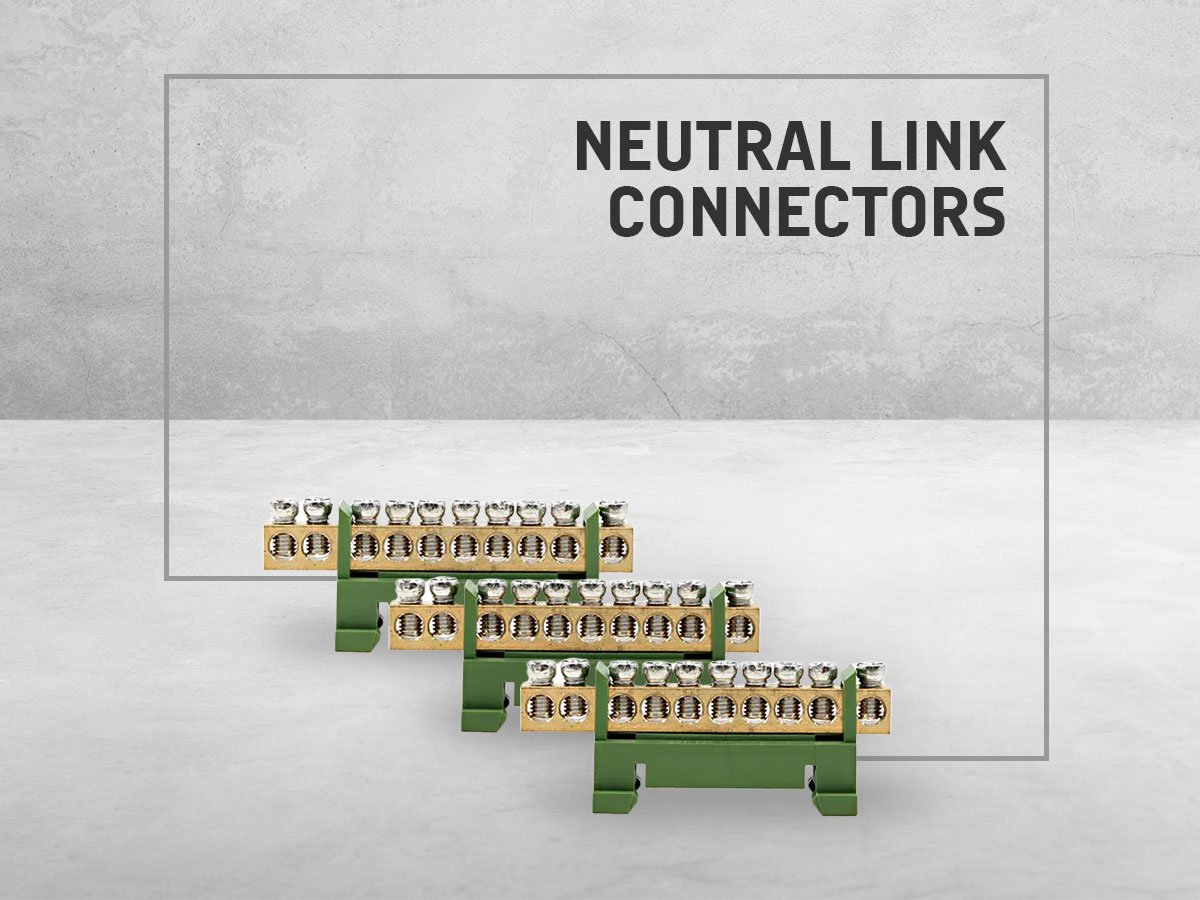 Neutral link connectors are the heart of several industries and play a critical role in every industrial application. In a typical electrical circuit, neutral link connectors are used to terminate neutral wires. In electrical boards and panel boards, it has an important role to play. These can be found in cars, washers, dryers, surge protectors, panel boards, and electrical boards.
How confident are you that your life and home are protected from household dangers caused by malfunctioning electrical systems? In construction, multiple circuit breakers (MCBs) are used, as are residual current devices (RCDs).
The RCD protects your life by preventing electrocution, while the MCB prevents electric fires caused by overheating wires.
The builders also use quality neutral link connectors along with MCB and RCD for circuit protection as it is an important component of the panel boards. However, using premium quality neutral link connectors are more beneficial and cautious.
In this article, let's first understand
Neutral link connectors have a vital role to play.
Neutral link connectors are recognized as the mainstay in structuring circuit protection like RCD, circuit breaker, and MCB. It is usually used on panel boards that have copper bus bars, brass neutral links, and earth links to allocate current. In every application, it is crucial and important to isolate electric equipment and eliminate faults downstream of switchgear. In addition, it is important to prevent short circuits or damage resulting from overload with circuit breakers. While neutral links and terminal blocks serve different purposes, they are both unique.
There is a wide range of neutral link connectors available in the market, but some of them are useful for the required applications. These connectors are available in various specifications such as size, shape, holes, thread, head type, lock type, length, material, coating, and tensile strength. All of these neutral link connectors offer the best performance based on their working aspects.
A neutral link connector is one of the most used electrical connectors for different purposes in industries. So, if you are looking to get a quality neutral link connector for you, then there are some factors including dimensional specification, types, features, characteristics, performance, electrical and mechanical strength, and many more that you need to consider before buying them.
Different Industries Rely on Different Neutral Link Connectors:
In this technology-driven market, every new invention or new product requires a special and unique solution. And as per different industries, it should be different and reliable. To meet various neutral link connectors' industrial requirements and applications, the neutral link connectors manufacturers work as a great source of obtaining the best suitable solution for custom industrial neutral link connectors. Neutral link connectors are quite a in demand and their crucial component is used in main industries like electronics, electrical, aerospace, construction, medical, military, automobile, Defense, marine, and telecommunication.
Why Quality Neutral Link connectors?
Quality is the utmost requirement in any industrial application. When it comes to neutral link connectors, the manufacturer of neutral link connectors uses high-quality metal material and composition to ensure the overall quality of neutral link connectors. Free-cutting brass IS 319 Type (I) or BS 249 Type (I) is most widely used for manufacturing neutral link connectors because of their characteristics, and advantages. It is an alloy of different metals that provides special attributes like conductivity, strength, crack resistance, and corrosion resistance. These qualities add to the reliability and durability of neutral link connectors. Some other materials such as copper, bronze, aluminium, stainless steel, and steel, are also used for neutral link connectors as per industrial requirements. Depending on your needs, they are available in nickel-plated, natural, tin-plated, silver or gold-plated, anti-rust coatings, and PVC coatings to give extra strength and improve service life.
The Advantages of using quality Neutral Link Connectors:
Protection against electrical shocks: Neutral link connectors help to protect against electrical shock by providing a safe path for electrical currents to flow.
Require less maintenance or maintenance-free:Electrical systems and installations require regular maintenance and upkeep to ensure they are functioning properly. High-quality neutral link connectors can be beneficial for time-consuming and costly projects.
Improved power quality:Neutral link connectors help to improve the power quality of an electrical system by reducing voltage imbalances and minimizing the risk of power outages.
Enhanced equipment performance:Neutral link connectors help to enhance the performance of electrical equipment by reducing the risk of damage from electrical surges and lightning strikes.
Increased safety for sensitive equipment: Neutral link connectors helps to ensure the safety of sensitive equipment, such as computers and medical devices, by protecting them from electrical interference.
Compliance with safety regulations:Neutral link connectors are a crucial aspect of electrical safety and are often required by local and international safety regulations. It helps to ensure that an electrical system is designed, installed, and maintained to the highest standards of safety.
Flexible and easy to install:The Neutral link connector contains many holes and options for neutral wiring, which makes it easy to install and maintain the system.
There are such wide varieties of neutral link connectors in the market which makes it difficult to choose the right and quality neutral link connector for an individual who is not dealing with them constantly. Therefore, choosing an experienced and ISO-certified neutral link connector manufacturer like Teron Metal Components will help to minimize your effort and you will be able to guarantee your service's reliability. If you have a related query, feel free to contact us. Also, kindly share your special requirements if you are looking for high-quality custom neutral link connectors.